Mathieu Valbuena has spoken out for the first time about the sex tape scandal in whichFrance team-mate Karim Benzema has been accused of conspiracy to blackmail and says he is "more than disappointed" with the Real Madrid striker.
The case came to light in the middle of October, when Djibril Cisse, who is now retired from football, was questioned by police, but at the beginning of November, Benzema was also investigated by the French authorities over his possible connection, though his lawyermaintains he has done nothing wrong.
In an extensive interview with Le Monde, Valbuena admits he feels let down by Benzema, who could face up to five years in prison if found guilty of the charges.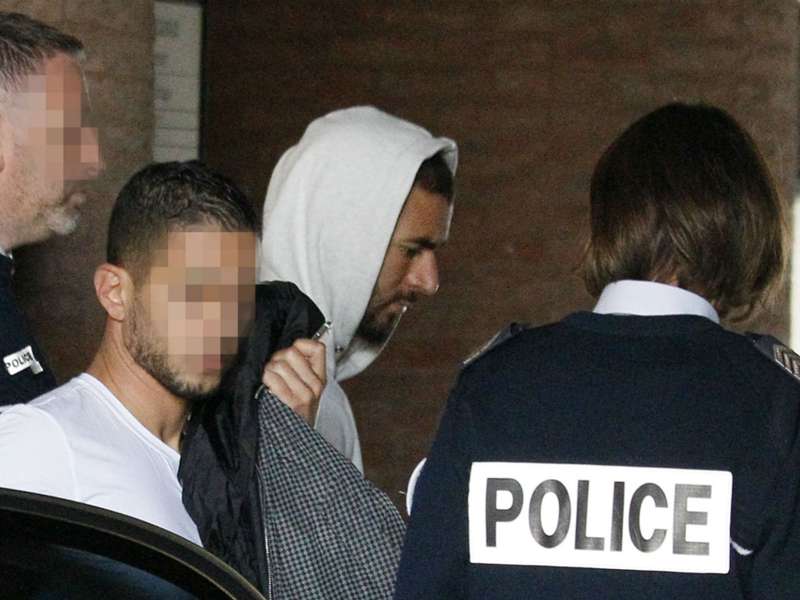 Valbuena has revealed his version of events, as he claims Benzema tried to entice him to meet with an acquaintance, who had apparently obtained a sex tape of him and was willing to destroy it.
"His way of speaking wasn't aggressive, and he didn't mention money specifically, but when he insisted I met with someone," the Lyon playmaker said. "I've never seen anyone who would destroy a video for free just because he loves me. Stop taking people for fools.
"I said to Karim: 'You saw Djibril [Cisse] in 2008 about the same thing.'
"And he told me: 'So was it worth it?'
"I told him: 'Well yeah, it was.'
"Him: 'And did it come out?'
"And I told him: 'Well, no.'
"After that, he repeated to me many times that I was dealing with 'some bad people'. He told me, 'It's still quite hot this video. You must be strong.'
"Ok, so he also said, 'If you don't want that, it's no problem. But I can introduce you to my friend.'
"We kept going back to that. I was more than disappointed. I told myself that it was quite simply a lack of respect. You can't behave like that with anyone.
"In the end, when we were about to go, Karim said to me: 'What have I to do? Give him your number? Give you his number?'
The 31-year-old, who claimed to be unaware just how deeply Benzema was implicated in the story at this stage, said that he was unwilling to do meet the Madrid striker's friend.
"Karim knows well – even if we never spoke of money, which I think was quite clever – that from the moment I met this person, it would not be for peanuts," he said.
"Karim tried to call me. Not with his telephone nor on mine but on that of a member of Lyon's staff. He told me: 'Mat, my name is out, it's a mess. I can't be involved in matters like this.'
"I responded: 'Karim, listen, there's not much to it, you've done nothing, there's no worry.'
"But deep down I knew it was strange that he still wanted me to meet that person.
"After that, he told me: 'We'll have to deny it. The story will reach crazy proportions and I have a daughter and everything.'
"I told him: 'Karim, it's not just me. As a good citizen, I just reported the case to the police. I can't help it if there are people listing into telephone calls and your name keeps coming up.
"And on the eventual denial, I told him: 'I can't do anything right now, I'll wait and see.'
"After, I tried to reassure him by saying: 'If one day I have to, I'll do it, I'll see Djibril. But for the moment, there's nothing I can do.'
"At that point, I knew that big difference between Djibril and Karim was that Djibril had never asked me to meet anyone. But Karim had. So I told him: 'I'll make the denial, but only if I've got the elements.'
"If not, I could look like a trumpet afterwards."
Valbuena said that matters really hit him hard when he heard that L'Equipe and Europe 1 had obtained a recording of the wiretaps made with Benzema's phone, in which the striker used insulting language towards him.
"I was obviously disappointed, more than disappointed. His comments reflected a lack of respect. I respected everyone, but then, I felt like I was being taken for an idiot. Many people want to knock me down, but I'll get back up, as I've always done," he said.
"There comes a time when you can't defend the indefensible. I wouldn't do that to my worst enemy."
Valbuena claims he had initially gone to the French authorities in the summer with the belief that the bribes were being carried out by small-time "bandits".
"When I first went to speak to the police, I couldn't imagine that Karim Benzema would be involved in it," said the midfielder.
"The investigators did not wait to hear what was said between Karim and me before investigating him. And moreover, the police told me: 'Don't worry, we don't need your testimony.'
"I can only be very, very disappointed, and with regards my relationship with Karim, it's not as sincere as he perhaps claims."
Valbuena, who turned out for Lyon in Nice last Friday evening after taking part in a hearing in Versailles around 900km away in the morning, is due to feature for his club against Montpellier on Friday.
Source: Goal