Chris Algieri isn't your typical prizefighter.
The 30-year-old from Huntington, New York, has movie-star good looks, a master's degree in clinical nutrition from Stony Brook University, is a former kickboxing champion and he still lives in the basement of his parent's Long Island home.
He remains humble, approachable and grounded, even on the cusp of the biggest fight of his professional career.
Algieri will challenge pound-for-pound superstar Manny Pacquiao for the WBO Welterweight Championship on Nov. 22 in Macau (9 p.m. ET/HBO PPV). The pressure is enormous, but Algieri refuses to be daunted by all the new experiences and demands thrust on him by an opportunity of this magnitude.
"It's zero to a hundred. That's just the nature of the game. My mother joked one day, like, 'Chris, it's just like you said it was going to happen. It's going to be nothing, nothing, nothing, and then boom, explosion, and now you're a full-on sprint toward your dreams.' That's just the nature of the business," Algieri said in response to Bleacher Report's question on Tuesday's media conference call.
"I'm not surprised by it. I've been watching the sport for years, and I'veseen it with other fighters. I knew my time would come. I just had to stay focused and disciplined. If you work hard good things happen. I'm exactly where I'm supposed to be."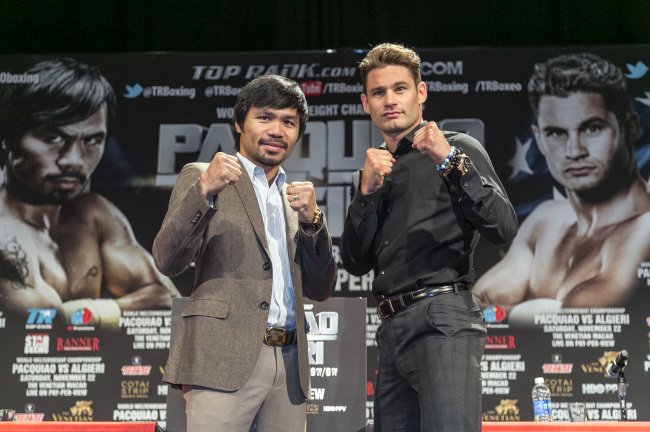 Damian Dovarganes/Associated Press
Algieri earned the opportunity to face Pacquiao by dethroning Russian slugger Ruslan Provodnikov this past June at the Barclays Center in Brooklyn, New York.
Even with that victory in his back pocket, many fans are still having a hard time buying into the New Yorker as a legitimate challenger for Pacquiao, one of the sport's best fighters and a future Hall of Famer.
Algieri understands that beating Provodnikov is what got him here, but that will be of no use to him once he steps through the ropes at theCotai Arena in Macau.
Still, he feels that his experiences coming up in the ranks have prepared him for a deserved crack at one of boxing's superstars.
"They're completely, completely different [Pacquiao and Provodnikov], and the preparations for each are different. But that's no change for me. I'm always fighting guys with different styles," Algieri said.
"I'm not one of those champions who was brought up and fed the perfect guys to look great. I've had to fight every single style you can think of coming up. I've had to fight my way to get here. I wasn't fed anyone at any point in my career."
Algieri proved his mettle against Provodnikov, a performance that can best be summed up in a single word—gutsy.
He overcame a pair of first-round knockdowns and a grotesquely swollen right eye to outbox the Russian slugger and lift his 140-pound title.
Pacquiao's longtime trainer Freddie Roach labeled Algieri "tough" on the premiere broadcast of HBO's 24/7, which aired after SergeyKovalev's dominant victory over Bernard Hopkins this past Saturday night, but went on to say that "tough kids don't win big fights."
The challenger refused to respond and get into a war of words with Roach, a Hall of Fame trainer known for needling his fighter's opponents, but he did offer a bit of free advice.
"He's wasting his time because I don't even read those reports. I hear about them from other people around me. It seems kind of odd for him to be coming out so much and saying so many different things on so many different days," Algieri said after pointing out that you never hear trash talk from Pacquiao himself.
"I don't read them. I don't care about them. They don't make a difference come fight night. Freddie's been around a long time, and maybe this has worked on other guys in the past. It's not going to work on me."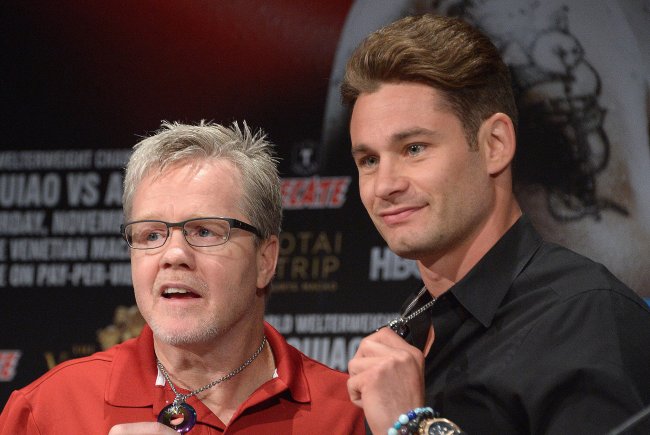 USA TODAY Sports
That last part remains to be seen in the ring, but you can't help but feel that Algieri isn't the type of guy to get rattled easily.
He could've easily folded the tent after getting dropped hard twice by the Siberian Rocky and seeing—forgive the pun—his eye turned into a golf ball hanging off his face.
Algieri has been forced to handle the bulk of the promotion for the fight—at least in the United States—while Pacquiao remains nestled in the Philippines handling his training, basketball and myriad other obligations.
It's a lot of work to fit in the constant need for appearances and interviews to hype a fight with the rigors of training camp, but Algieridoesn't mind because it's the first chance he's had to be a full-time fighter.
"I've been comfortable. This is actually my first time where I'm fighting where I'm not working as well. I've been a full-time boxer this camp. So all this other stuff that we've been doing is kind of on par with how busy I am normally anyway," Algieri said.
"Pacquiao's not the only guy who does a million other things besides box. I've got a lot of stuff that I've always been into during my entire career. I've put all that on hold now."
Algieri definitely says all the right things.
He's a smart guy, and he understands that many fighters in his position—fighting for the first time on a huge pay-per-view main event against a better-known foe—talk a big game only to stumble when it matters most.
But you get a sense that won't happen in his case.
He's still a huge underdog, yes, and he'll have to bring his absolute best game to Macau with him to have any chance of upsetting the Filipino icon, but overwhelmed?
Doubtful.
Algieri remains supremely confident in his abilities, and while a victory would be a major upset in the eyes of most fans and media, it wouldn't surprise him in the least.
"It's Chris Algieri versus Manny Pacquiao. It's what I bring to the table versus what he brings to the table. A lot of it has to do with my mental preparation. We know Pacquiao. He's a living legend and a Hall ofFamer for sure. He's one of the greatest fighters who ever lived."
"I've got to go out there and be myself. I have the talent and tools to win this fight. I just have to go out there and perform."