More than 100 teachers protested a new government education act outside the gates of the Chile team's training complex ahead of the Copa America opener in Santiago against Ecuador on Thursday.
The controversial Teachers' Statute, introduced by president Michelle Bachelet, has prompted widespread strikes in municipal schools since June 1 and teachers are asking that their demands be respected when the act is finalised.
The group is asking for a reduction in class sizes, planning and teaching time in school hours to be split 50/50, a new, incentivised pension scheme as well as a payment of historical debt to teachers.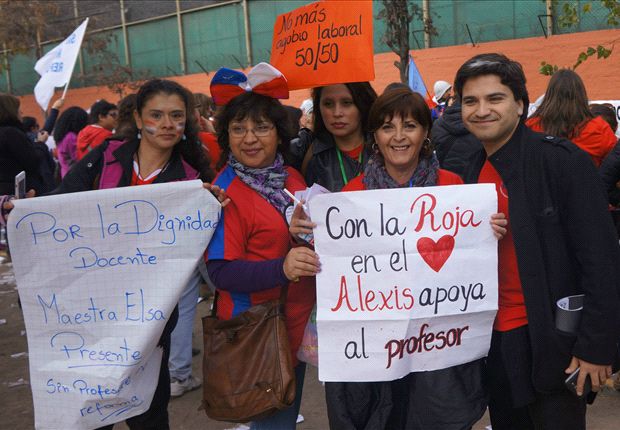 Teachers with protest signs outside the training complex
The protestors chose the Juan Pinto Duran training complex for their demonstrations to capitalise on media coverage around the Chile team in their preparation for the Copa America which starts on Thursday.
"We are fighting to finally have a teaching career and not one that is indecent as we have right now," said Maria Soledad, a school teacher from Florida.
"We came here (Juan Pinto Duran) because the tournament is happening. It is the news and this is the only way for us to be seen, because nobody has taken much notice of us, unfortunately."
Teachers, who carried flags, banners and signs at the complex, are asking for the players to take notice and show solidarity with the strike. One sign read: "With la Roja [Chile's nickname] in your heart, Alexis supports the teachers."
"We are advocating that Alexis and all players to support us, because they were once had students and had teachers," Soledad said. "We want to have a decent retirement, be paid what we are worth and be with our families."
Last year's World Cup in Brazil attracted similar types of demonstrations, with protestors unhappy with the amount of money paid towards hosting the World Cup while basic infrastructure was left under-funded.