The biggest fight in years could well be one stroke of Floyd Mayweather Jr.'s pen away.
Bob Arum, in a story first reported by Kevin Iole of Yahoo Sports, stated on Tuesday night that Manny Pacquiao has agreed to terms for a long-awaited showdown with the pound-for-pound king on May 2 in Las Vegas.
Arum claimed that Mayweather's representatives have also agreed to the deal, which would include a 60-40 purse split in his favor, and the only thing left to do is get final approval from Mayweather himself.
It's extremely important to note that none of this information has been confirmed or denied by Mayweather or any member of his camp, and any reports of fight announcements being imminent are extremely premature.
Still, you get the sense that the fight is closer to fruition than at any point since 2011, and the overwhelming amount of pressure to seal the deal now falls squarely on Mayweather's shoulders.
Especially with his financial demands reportedly now met.
ESPN.com's senior boxing writer Dan Rafael remains unconvinced:
Pacquiao and his team have long dominated the public-perception game, prompting Mayweather to issue an extensive comment on the situation in an interview with Showtime's Steve Farhood in December:
Floyd Mayweather is not ducking or dodging any opponent. Bob Arum is stopping the fight. We have been trying to make this fight happen, behind the scenes, for years now. The fans and the people have been fooled. They have been listening to people just on one side.

Now it's time for us to talk. We want the fight. We are ready. Let's make it happen. May 2nd. Mayweather versus Manny Pacquiao. Let's do it.
Indeed.
Let's do it.
Finally.
You have the power.
Mayweather and Pacquiao have been engaged in this twisted tango for the better part of six years. The fight has been discussed, debated and negotiated more times than you'd believe, but the only fisticuffs exchanged have been of the verbal variety.
Disagreements over money and drug testing have derailed it when fans felt it was finally in sniffing distance, but none of those issues can compare to the main stumbling block to getting the two most iconic figures of boxing's current generation into the ring:
Egos.
Mayweather, rightfully, has been consistent in his demand to be the top draw and receive the higher level of compensation.
Fair enough.
He's boxing's undisputed pound-for-pound king, sells more pay-per-views on a bad night than any other fighter on a good night and is the sport's most iconic figure.
He's undefeated, seldom challenged and will one day have a plaque hanging at the International Boxing Hall of Fame in Canastota, New York.
We get all that.
The question has never been who gets more money but how muchmore Floyd is entitled to receive. Offering Pacquiao a flat-rate fee for his services on fight night, as Mayweather did in 2012, was never going to get the deal done.
Put yourself in Pacquiao's position.
You're at worst the No. 2 draw in the sport, an international icon, and you're not even getting a cut of the sure-to-be-massive PPV revenues?
Pass.
Hopefully, if these reports are correct, we can permanently scratch the money question off the list of reasons why this fight won't happen, and that's a huge development.
How huge?
Almost pop-the-cork-off-the-champagne-bottle huge.
Almost.
Rafael cautions us that there is still work to be done and one big if:
Mayweather remaining mum, at least thus far, still provides a bit of nervous anticipation about what, if anything, he will eventually say in regard to Arum's claims that a purse split has been agreed upon.
One thing is for sure, he can't remain silent for long.
He needs to say something.
Either come out and dispute the report, claiming—as he's done on more than one occasion—that old-man Arum is up to his parlor tricks once again or sit back and create the perception that he's holding up the fight, despite his No. 1 demand being met.
You can just imagine the media and fan feeding frenzy that will ensue from the latter.
It's just a bad look.
Pacquiao's made a substantial concession here.
The 60-40 split is eminently fair. It reflects Mayweather's position as top draw, which could net him approximately $120 million in revenue from the fight, but it also ensures Pacquiao doesn't get the just-lucky-to-be-here treatment.
He's not Marcos Maidana or Robert Guerrero—no disrespect intended—he's a legitimate superstar in his own right and entitled to be compensated as such.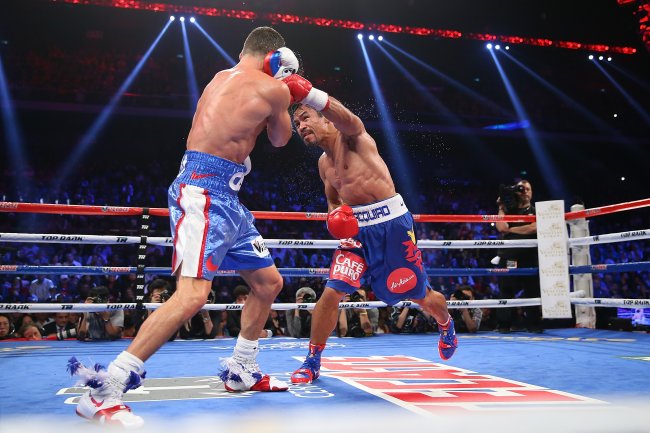 Where does that leave us?
Mayweather wants to be the top draw and get the lion's share of the purse:
Done.
Mayweather hasn't traveled out of Las Vegas for a fight since 2005:
The MGM Grand will host the event.
Mayweather insisted on a fight date to coincide with Cinco de Mayo weekend:
Arum and Top Rank initially wanted to hold a Miguel Cotto-Canelo Alvarez bout on May 2, but, per Rafael, have conceded on the date.
Digging into the rabbit hole a little deeper, Mayweather long ago demanded stringent, random blood testing as a condition for the fight—Pacquiao initially declined, derailing the contest in 2011.
That hurdle has been cleared, as the Pac-Man is willing to abide by the protocols of the United States Anti-Doping Association (USADA), which has tested Mayweather and his most recent opponents.
All that's left are the networks.
Mayweather is currently on fight five of an exclusive six-fight deal with Showtime.
Pacquiao only fights on HBO.
That's a major hurdle, yes, but HBO and Showtime have worked together in the past, co-promoting the Lennox Lewis-Mike Tyson heavyweight championship fight in 2002.
A similar arrangement would likely be worked out to clear the path for Mayweather vs. Pacquiao.
It's time to just sit down, get the deal done and give the fans what they want to see.
That power now lies in the hands of one man:
Floyd Mayweather Jr.
It's time for him to get it done. Or at the very least, explain to us, the boxing public, why not.