Oscar De La Hoya is "50-50" about returning to the boxing ring, but he admits the only way he would do so is to fight the "very best," such as Floyd Mayweather Jr. or Gennady Golovkin.
The 42-year-old hasn't fought since losing to Manny Pacquiao at the MGM Grand in 2008, and he lost to Mayweather in 2007. He admits the "itch" to return has appeared alongside a fitness regime that has allowed him to "feel the best" he ever has.
This involves running eight miles, hitting the bag for 12 rounds and staying away from alcohol, his previous demon, according to ESPN.com's Dan Rafael. However, the legendary boxer isn't willing to fight at anything higher than the 154-pound junior middleweight division and is keen on facing only Mayweather or Golovkin.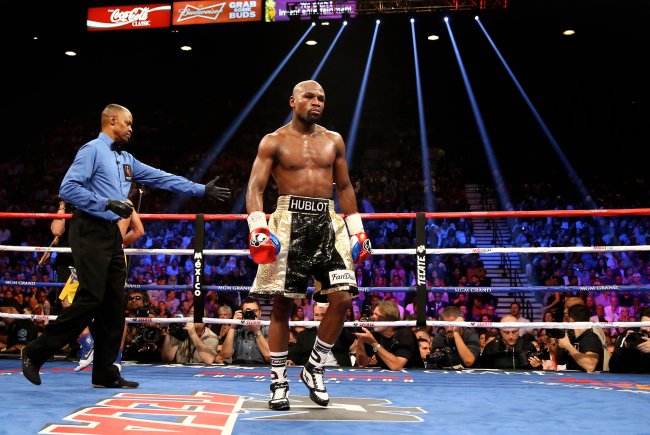 Mark J. Rebilas-USA TODAY Sports
"I want to fight one of them because they are the best and I always fought the best. That's what boxing is all about—fighting the best," De La Hoya said, per Rafael. The Golden Boy also suggested any previous injuries are now gone:
It seems De La Hoya is becoming more excited by the prospect of battling again as time passes. However, waiting for Mayweather to take on GGG is as good as suggesting a bout against either will never happen. Money has one fight left after beating Pacquiao on May 2. This is likely to be scheduled for September, and if Mayweather's recent comments are anything to go by, it could prove to be a huge anticlimax to his stunning career. "There are two names out there that I'm going to fight," Mayweather said, per The Boxing Voice (h/t Sky Sports). "I'm either going to fight Karim Mayfield or Andre Berto in September."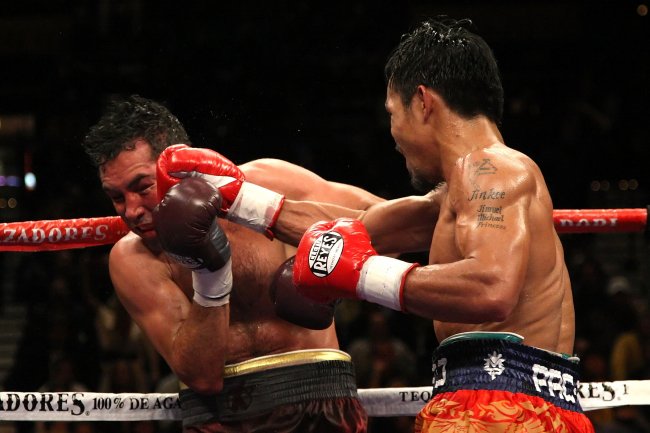 Jed Jacobsohn/Getty Images
Mayfield's record stands at 19-2-1 with 11 knockouts across his professional career. He has won just one of his last three fights, having beaten Michael Balasi in November 2014 after losing consecutive encounters against Thomas Dulorme and Emmanuel Taylor. Andre Berto has racked up a 30-3 record, but all three of his losses have come in his last six fights. Victor Ortiz and Robert Guerrero beat the 31-year-old via unanimous decision before Jesus Soto Karass teed off on the Haitian-American in a TKO win, as highlighted below:
Neither man deserves the chance to help Mayweather lower the curtain on his career. Golovkin or perhaps Amir Khan would provide Pretty Boy with a better final bout; however, Rafael believes Mayweather is serious about welcoming a simple final challenge:
Floyd said he'll fight Berto or Mayfield next. I asked if he was kidding. He seemed to be serious. Said Pacquiao fought Algieri so why not?

— Dan Rafael (@danrafaelespn) June 21, 2015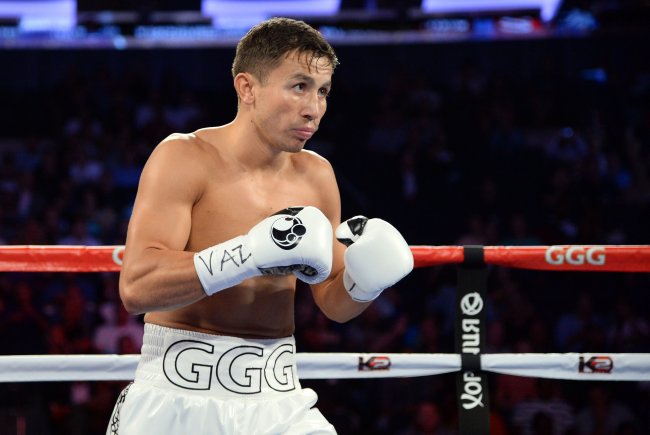 De La Hoya's return to the ring would be huge news, particularly with pay-per-view sales in mind. Like Mayweather, his career captured the imagination of fans across the globe. Many would question his fitness after such a prolonged absence from competitive boxing, but as a spectacle, his re-emergence would be an exciting development for the sport.
Circumstances suggest Golovkin is the more likely fighter to take De LaHoya on, a bout that would satisfy the former's need to face a huge name and the latter's desire to challenge the best once more.
Credit: Bleachreporter