Well, you may not have to wait too long. Skip Bayless reported on ESPN2's "First Take" Tuesday morning that Stephen A. Smith received a text from Floyd Mayweather Jr., apparently indicating that he'd go another 12 rounds with Manny Pacquiao.
Here's what Bayless had to say (also much appreciated is the effort he takes to explain what "a year from now" means to viewers. Thanks, Skip!):
"My friend Stephen A. Smith just got a text from his man, Floyd Mayweather Jr., who said he would gladly fight Manny Pacquiao a year from now, or maybe even a September from now — like a year from September. But at least a year from now, when Pacquiao recovers fully from his rotator cuff surgery.

"According to the text that Stephen A. got from Floyd himself, Floyd is open to a rematch a year from now or maybe even more than a year from now. Whenever Manny fully recovers from his surgery."
Excuse us if we don't rush to jump up and down for this one.
Pacquiao could face fines or even suspension for stepping into the ring without disclosing his shoulder injury, for which he's expected to undergo surgery this week.
Surgery or not, what's likely is that Mayweather will resort to his defensive tactical style of boxing (much to the displeasure of viewers hunting for blood and plenty of power punches) and it's clear from Saturday's performance (and Pacquiao's record heading into to it) that Pacman is way past his prime.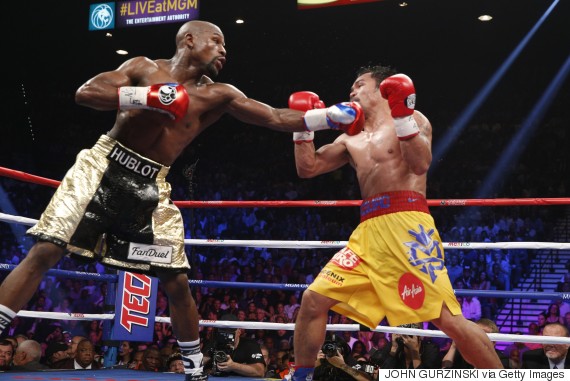 Nevertheless, Pacquiao said earlier this week that he was game for a rematch too.
"I want a rematch if he wants. I wasn't 100 percent ready for last night, because of this shoulder, but I don't want to use that complaining that I lost the fight. I'm just accepting the fact that I lost," Pacquiao said, according to Bleacher Report.
By the way, it was only moments after the fight that Mayweather said he'll have one more fight in September and then he'd hang up his gloves. If only we were so lucky.
The one good thing that could come from another overly-hyped bout between these two is that Mayweather's horrific record of violence against women is once against front and center.
Until then, we'll pass, thanks.