Who cares whether Floyd Mayweather and Manny Pacquiao fight? I ask that question not rhetorically but out of genuine curiosity. Who actually cares at this point and would be as excited to see the bout as they would have been, say, five years ago? I would like to know.
Because their latest very public dalliance gives me the same feeling as when I spun through the new Shady XV album—that it was a mix of greatest hits I'd heard before and a bunch of new garbage better left on the cutting room floor.
Oh, look, here's Mayweather mocking Pacquiao on Instagram:
And another Pacquiao quote where he sets himself up as a martyr and voice of the fans, claiming again that Mayweather is ducking the bout: "I really want the fight. The fans deserve it. It's time to step up and say 'yes.'"
And another promoter, this time Bob Arum, attempting to rile up excitement again:
I think the fight should happen and all of the nonsense has to cease. There's no reason not to get it done. If boxing is to be considered a major sport, the fight has to happen. Everyone should work together to make that fight happen. There are no excuses anymore. I will be at the phone. We are ready.
At the risk of sounding like an old, hot-take-spewing curmudgeon, we've heard this before. It's as if everyone involved has conspired to reword their quotes from 2009 to create a new story. Maybe these are just publications actuallyrepurposing old quotes, and our eyes are too glazed over to notice.
Even boxing media, a medium starved for traffic-generating articles that have to do with the here and now, has become apathetic. At some point in every article that touts one of these headline-making proclamations comes a sentence that begins "If this fight ever happens…" or something of a similar nature.
When these two sides first started negotiating, that wasn't the case. It wasn't an "if" question but a "when." The purse seemed too high, the stakes too big for anyone to back out. This was the fight that was supposed to "save boxing," as if Pacquiao and Mayweather didn't already rest on an anomalous plane far separated from the rest of the sport.
A Pacquiao-Mayweather billing now feels more like a cruel in-joke that everyone stopped laughing about years ago. It's as if the sport itself is on autopilot, churning out qualifiers about a potential megafight no one believes is a real possibility.
All the while the Mayweather and Pacquiao camps trudge up the same worn narratives as promotions for their next fight. Mayweather will use a form of social media to call out Pacquiao. Pacquiao will respond with some form of self-flattery calling out Mayweather for ducking him when we all know by now they're ducking each other. This "rivalry" has less nuance than a group of ninth-grade girls subtweeting one another.
It's grown tiresome and old, all while Pacquiao and Mayweather have done the same. The fight—again, "if it ever happens"—will not be the one billed a half-decade prior.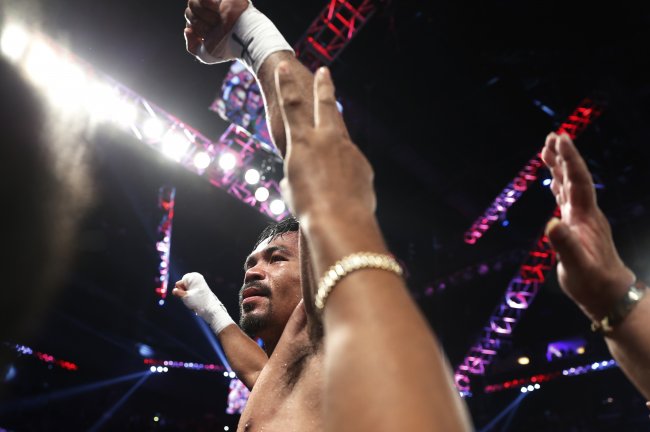 Kin Cheung/Associated Press
Pacquiao is probably no longer the world's most powerful pound-for-pound fighter—or, if he is, that's only because there are few other viable options. Pacquiao hasn't scored a knockout in his last nine fights and has frankly matured as a fighter to the point where he's not in need of the one-swing finish.
Mayweather is still atop nearly every pound-for-pound ranking, but he's not the same guy. His feet aren't as quick, his jabs not as crisp. His mind still moves as fast as anyone in the sport's history, but the air of invincibility isn't totally there. That Mayweather fought his first rematch in more than a decade against MarcosMaidana could indicate he has something to prove to himself.
None of this creates an intriguing buildup. People will watch because Mayweather and Pacquiao remain the two biggest boxing stars in the world, but the investment isn't there. The most strident fans of either fighter have grown tired of getting excited and then let down, and the casual fans are so beyond exasperated with the discussion that the only reason they want to see the fight is so they no longer have to hear about the potential of one.
So go ahead and fight, Mayweather and Pacquiao. Or don't. Whatever. But if you want to keep talking trash to one another, do everyone a favor and startDMing.
[poll id="1″]