Manny Pacquiao and his team could face an investigation and possible perjury charges after failing to disclose his shoulder injury in a questionnaire posted before the Filipino's loss to Floyd Mayweather Jr. Pacquiao was denied an anti-inflammatory injection after his team apparently failed to check the relevant box before the fight. He then said "it's hard to fight one-handed" after losing via unanimous decision, per ESPN.com.
ESPN.com also provided comments from Bob Bennett, the executive director of the Nevada Athletic Comission, who spoke about the decision to deny Pacquiao the injection:
"It's not just the fact he didn't fill out the question completely, it was that he wasn't honest and they didn't tell us a month ago when he had the shoulder injury," Nevada Athletic Commission executive director Bob Bennett said. "They're not obligated to, but two hours before the fight they wanted a shot that's a painkiller, in essence. That put us in a very precarious position."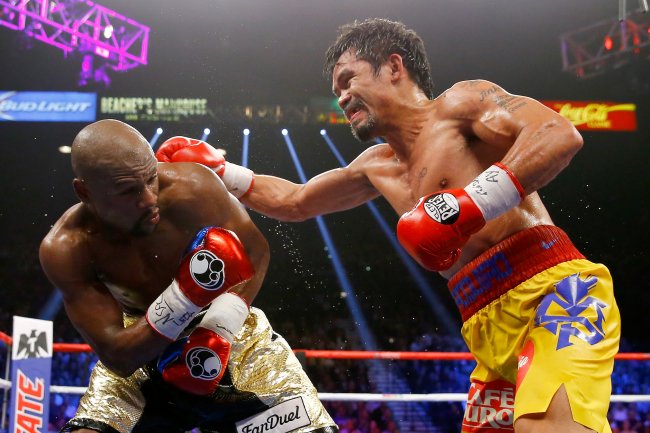 Red and Abraham's article states if a laywer signed the document, they may also run into a "license issue." There's the potential of a "class-action suit, where ticket holders could argue they didn't get what was promised." Nobody paid to see a less-than-100-percent Pacquiao struggle through the bout.
Interestingly, one of the Filipino's advisers has confirmed failure to check the required injury box on the pre-fight questionnaire was his fault.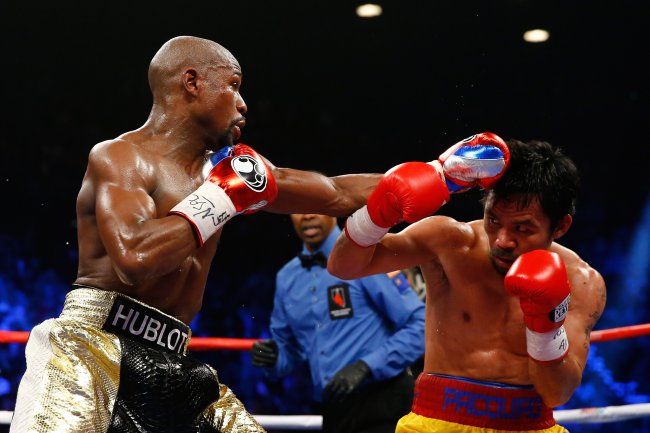 Michael
Koncz
admitted Manny is due to have shoulder surgery in the coming days, but confirmed the fighter shouldn't be held responsible for not making his trouble clear to the fight's overseers, as reported by Red and Abraham:
"No 1., Manny didn't check the box. I checked it. It was just an inadvertent mistake. If I was trying to hide anything, would I have listed all the medications on the sheet that he intended to use? We weren't trying to hide anything. I just don't think I read the questionnaire correctly.[I'm] going to take full responsibility for what happened. The bottom line is that we weren't trying to hide anything. If we had wanted to, we could have done the injection at the hotel before the fight and nobody would have known but we didn't want to hide anything."
While Floyd remained typically elusive, Manny never exited a plodding pace. Mayweather's technical performance was a masterclass—nobody can neutralise an opponent's strengths like him—but Pacquiao's lack of spark was a disappointment for many.
ESPN.com's Dan Rafael passed along word from orthopedic surgeon Dr. Neal ElAttrache, who confirmed Pacquiao has a "significant tear." This will rule him out for between nine months and a year at the very least. Age will continue to take its toll across his rehabilitation process, so in the wake of his recent loss, it's fair to assume the best of Pacquiao is well and truly in the past.
Legal proceedings would potentially complicate things further. DesBieler of The Washington Post noted Pac-Man "could be fined or suspended" and may even face a felony charge. Although Pacquiao's camp said they notified the United States Anti-Doping Agency of the treatment being used, Travis Tygart, CEO of the USADA, told the Associated Press (via Bieler): "We had no medical information, noMRIs, no documents."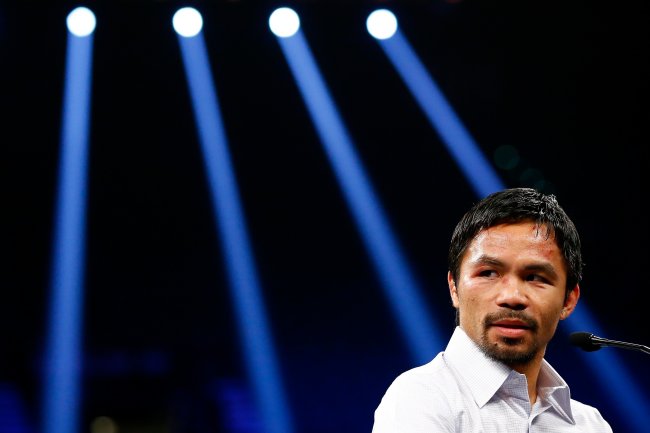 One has to assume at this point the failure to announce Pacquiao's injury was a genuine mistake and not an underhand tactic to soften the loss. Promoters will likely be considering a potential rematch with the storyline that a fully in-shape Pacquiao is ready to defeat Floyd.
Shoulder injury or not, Saturday's fight showed this contest would be futile.
Source: Bleachreporter