wo-time world champion Amir Khan is back in action on Saturday night, taking on Devon Alexander at the MGM Grand in Las Vegas for the WBC silver welterweight title.
In this exclusive Q&A with Bleacher Report, Khan addresses the fight and looks ahead to the mouth-watering prospect of fights against Manny Pacquiao and Floyd Mayweather.
BLEACHER REPORT: How confident are you about beating Devon Alexander without too much trouble on Saturday night?
AMIR KHAN: I'm always confident. You have to be going into any fight, but I never underestimate my opponents either. With Luis Collazo and Devon Alexander both being southpaw-style fighters, I feel like that's given me an advantage. I've been training specifically to fight southpaws for the last two fights, so I think this will give me the edge this weekend.
BR: With that done, would Kell Brook be your preferred next fight? What kind of battle could you see unfolding with him?
AK: It's definitely something I'd be open to at some point. For now, though, I'm focused on Devon Alexander and getting past him. At this stage, I can't look beyond December 13th and that fight.
BR: We have to then talk about Pacquiao and Mayweather. Where are you at with those two? Are they fights you're determined to make happen? Do you think you could beat them both? Which excites you more?
AK: Of course, I'd love to fight either Floyd or Manny. Manny and I used to train and spar together, so I know what he is capable of. I also know that I can beat him. If I was to get a chance to prove that, then I think it would be a great spectacle for boxing and a great fight for the fans to see.
I don't know Floyd as well, but I definitely think my speed would cause him problems, which is why he hasn't wanted to fight me yet. The fans want to see that fight, and I'm ready for it, so it's still a possibility. As a fighter, you want to fight the best, and there's no doubt that Floyd is the best pound-for-pound fighter in the world right now.
BR: What's the difference between training at home and on the road? Is there a lot of equipment you take with you? Is it sometimes hard to adjust?
AK: I have a training setup in San Francisco, and in my hometown of Bolton, I have my own gym, Gloves Community Centre. My training regime is rigorous, and my trainer, Virgil Hunter, keeps me very focused at home and elsewhere. Usually when we're travelling, I'm lucky enough to stop off at boxing gyms across America and the UK, and people are happy to let me train there with their fighters.
The most difficult part of training is the first few weeks of camp, and after that first adjustment, it's easy to get fully focused. Usually between fights, I go on holiday, and I still try to keep in shape, but I do have to let my body rest, so getting back up to peak fitness is tough and takes a lot of dedication.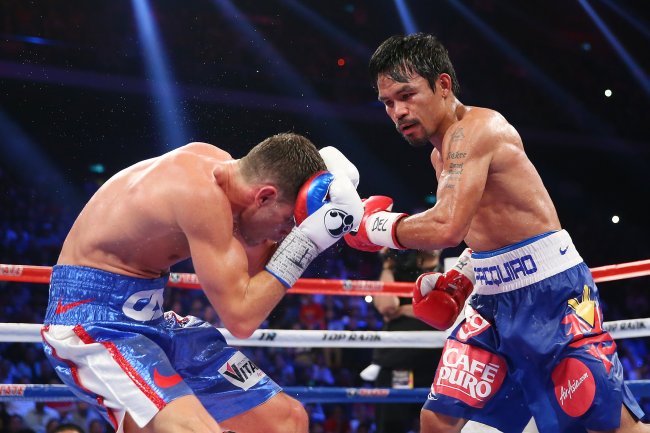 Chris Hyde/Getty Images
BR: Who would you say is your biggest influence in boxing and why?
AK: I love Muhammad Ali. I think he was a great fighter and a great person outside the boxing ring. What he did, sticking to his religion and helping others out—he was a people's champion. Also, as an overall influence on my career, I have to say my father, Shah, who was the one who took me to my first boxing club and has supported me in every way ever since.
BR: There are still people hung up on the notion you have a weak chin. Do you think you've proved them wrong? Does that kind of criticism annoy you or just motivate you?
AK: Yes, it's a very competitive weight class, and there's no doubt that some of boxing's biggest names are currently featuring in it. Every fight is tough at this level—make no mistake about that—so I approach every fight with the same determination, passion and preparation regardless of my opponent. I don't know who would give me the hardest fight, but I can promise you each of my opponents will have a tough job on his hands to beat me.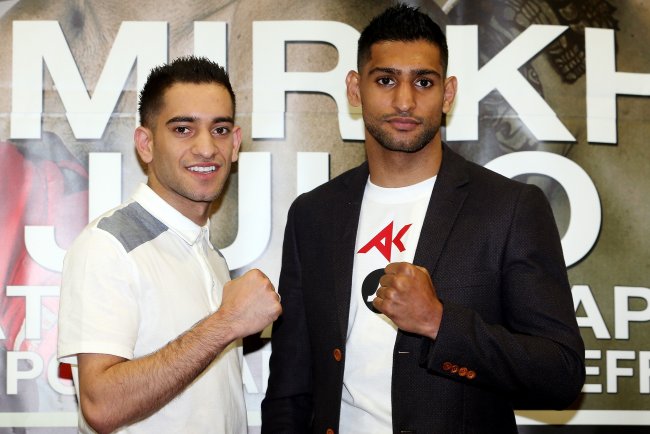 Scott Heavey/Getty Images
BR: Your brother Haroon is being talked about as a fighter with great potential. How far do you think he can go? And what are the differences in your respective styles?
AK: Haroon has had five fights, and he has really impressed me in each fight. He isn't the biggest of lads by any means, as he fights at just over 50kg, but he does have immense speed and can pack a punch.
He is quickly getting up to speed in the boxing world, but hopefully he can one day emulate what I've done, and who knows? We could have two world champions in the Khan family in a few years!
BR: Finally, a football question. Would your love of Bolton Wanderers ever tempt you to invest in the club? Maybe even become its owner one day?
AK: It would be nice to take part ownership in Bolton, because it's a fantastic club and a club I have adored since I was a boy, but at the moment, most of my spare time goes into charitable projects, such as the Amir Khan Foundation.
Amir Khan vs. Devon Alexander is live on Sky Sports 1 on Saturday December 13th.