The English have a history of heartbreaking losses at the World Cup, but it's hard to imagine a more devastating way to lose than England managed against Japan in Wednesday's semifinal match at the 2015 Women's World Cup.
With the score knotted at 1-1 in the 92nd minute, Japan rushed forward on the counter and sent a low cross into the box. English defender Laura Bassett attempted to clear the ball but insteadtragically redirected it right under her own bar and into the goal, giving Japan a 2-1 victory and a place in the final against the United States.
England manager Mark Sampson and captain Stephanie Houghton spoke of the shocking developments at the end of the match with BBC Sport:
#ENG manager Mark Sampson heaps praise on "heartbroken" Laura Bassett. Reaction: http://t.co/kCcbzNucK9 #Lionesses pic.twitter.com/KVBwLvnb32

— BBC Sport (@BBCSport) July 2, 2015
#ENG skipper Steph Houghton on the "amazing journey" England have been on: http://t.co/jhpH8tauFj #Lionesses pic.twitter.com/kptmpe0zr0

— BBC Sport (@BBCSport) July 2, 2015
One of the iconic images from this year's World Cup will be a distraught Bassett, covering her face and overcome by emotion while being consoled by teammates, which is a reminder of just how true the old cliche "the thrill of victory and the agony of defeat" is.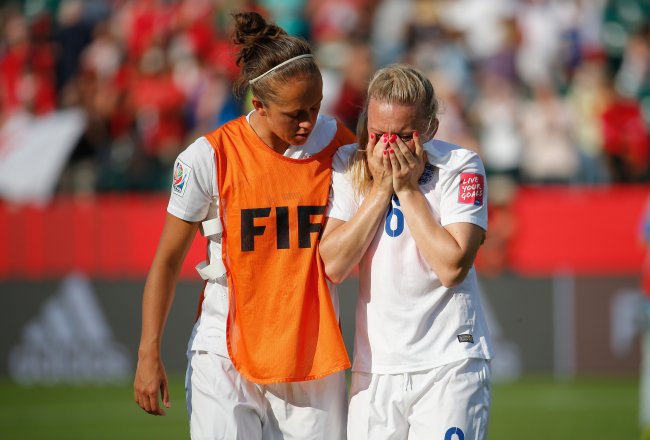 England will now face Germany in the third-place game Saturday, while Japan will take on the United States in the final Sunday night. For the Japanese, Wednesday's game may serve as a bit of a wake-up call, as their performance against England won't hold up against an in-form U.S. squad that just beat Germany 2-0.
On the other hand, the Japanese proved an old adage true Wednesday: It's better to be lucky than good.