Lewis Hamilton claimed his third race win of the season at the Bahrain Grand Prix on Sunday as he cruised to an emphatic victory in the desert.
Having started on pole for the fourth consecutive time this season, Hamilton led for almost the entire race.
The defending world champion got off to a flying start, and although he was reeled back in at times, he was never troubled.
Nico Rosberg, Hamilton's Mercedes team-mate, finished in third, overtaken late on after huge pressure from Ferrari's Kimi Raikkonen.
Here are the full race results from Bahrain:
Hamilton Charges to Victory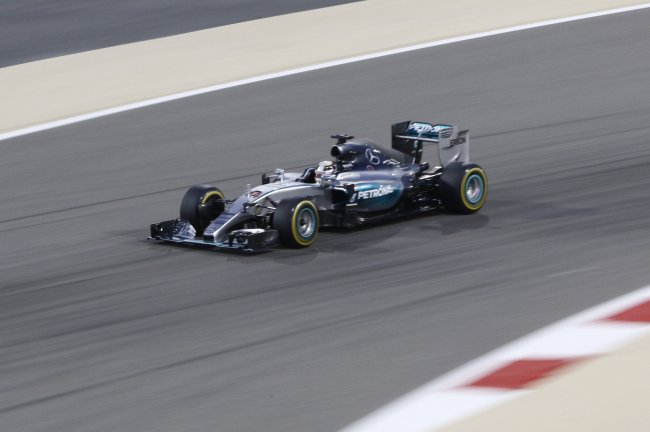 Hassan Ammar/Associated Press
Mercedes reasserted their dominance last time out in China following Sebastian Vettel's win in Malaysia, and their world champion Hamilton was top dog again in Bahrain on Sunday.
However, Rosberg's inability to finish ahead of Hamilton sees the German slip further back in the driver standings, though he does jump ahead of Vettel.
Hamilton cruised away from the rest at the start, but Rosberg lost his third place to Raikkonen at the first corner.
However, Rosberg attacked effectively and took the place back almost immediately, grabbing second from Vettel soon after.
The four-time world champion claimed the spot back after a pit stop, per beIN Sports, but Rosberg was excellent in moving back past his compatriot soon after:
Rosberg and Vettel continued their entertaining battle, but the Ferrari driver eventually lost out as he was forced to pit once more for a new front wing, per Formula One:
Raikkonen stayed out far longer than any of the other front-runners before his final pit stop. It made little difference to the top spot, however, as he was caught by Hamilton to reclaim the lead before pitting for the last time.
Hamilton's lead was effectively unassailable from that point on, and the Briton eased to victory despite a nervy final lap after minimal brake issues.
But the Finn homed in on Rosberg for second spot with fresher tyres.
Rosberg lost his spot with two laps remaining, the German running wide to allow Raikkonen through into second.
Valtteri Bottas defended his fourth well from Vettel, and the German had to settle for fifth in the end. 

Hamilton acknowledged the excellence of the Ferraris after the race, per Formula One:
Next up on May 10 is the Spanish Grand Prix in Barcelona, and the rest of the field will be desperate to see Hamilton's grip on the championship loosened somewhat.
However, with the Briton driving this well, he looks almost untouchable, and he was fully deserving of the win in Bahrain as he controlled the race.