Floyd Mayweather has revealed he has been offered "crazy," "nine-figure" sums of money to come out of retirement and fight once more—but remains adamant he won't step into the ring again at this moment in time.
It's been crazy numbers that's been thrown at me of course, nine figures. You know, I've had money thrown at me from so many different countries… If I get the itch to come back, it really won't be for the money but I'll have to get paid, that's why the nickname is Floyd "Money" Mayweather.

…

As of right now, I am out completely.
Mayweather further refuted claims made by Michael Koncz—business advisor to Manny Pacquiao—that the Filipino's team had touched base with Mayweather's promotion company regarding a potential rematch between the two. He said:
Everything that you guys are hearing that Michael Koncz has said and what [promoter] Bob Arum has said is totally false. Totally false. I haven't spoken to Bob Arum, I haven't spoken to Michael Koncz.

And as far as people keep talking about Mayweather Promotions, I dictate and control what goes on with it. Leonard Ellerbe is the CEO but everything has to go through me and I have to put the green light on any and everything.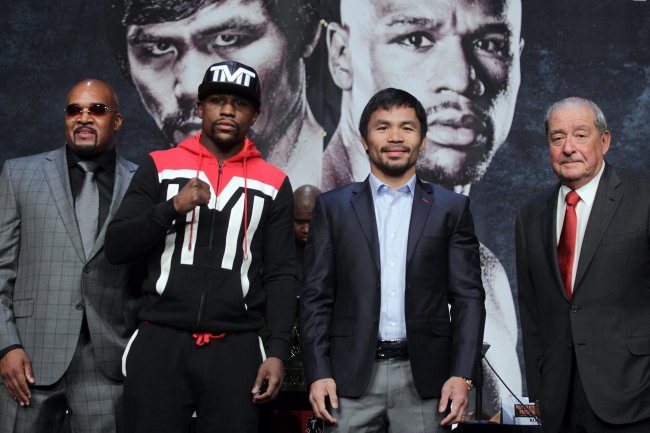 The 38-year-old, who generated well over $1 billion of pay-per-view revenue in his unbeaten 49-0 career, reiterated that he's enjoying his retirement. He added:
Life is great. My family has a comfortable life from me going out there and taking chances and taking risks. That was the ultimate goal. My kids will be going to college real soon.

I am very happy that I was able to be a risk-taker. Roll the dice and take chances. Me being in the 12th grade, leaving school, leaving everything behind, leaving my family behind to go out there and do something that I love to do. It paid off in the long run.
With such an incredible record it was inevitable Mayweather would be offered big money to come out of retirement.
Indeed, after personally earning over $200 million in his showdown with Pacquiao, it would likely take a phenomenal sum to tempt Mayweather to put his unbeaten risk at record once again.
Having only retired in September following his defeat of Andre Berto and with his media tour helping to keep him a relevant figure in the boxing world, a comeback fight would likely generate plenty of interest—and money.
However, a lot would also depend on who his prospective opponent was.
Though he won't want to put his record in jeopardy, if Mayweather does make the decision in future to fight again he should do so against a younger and in-form opponent, or he may find it difficult to earn such "crazy" sums as he once did.
Download our mobile app today.