Floyd Mayweather Jr. may have officially announced his retirement after his win over Andre Berto on Saturday, but heavyweight champion Wladimir Klitschko believes the lure of breaking Rocky Marciano's perfect record of 49 wins and no losses will see the 38-year-old fight again at some point in the future.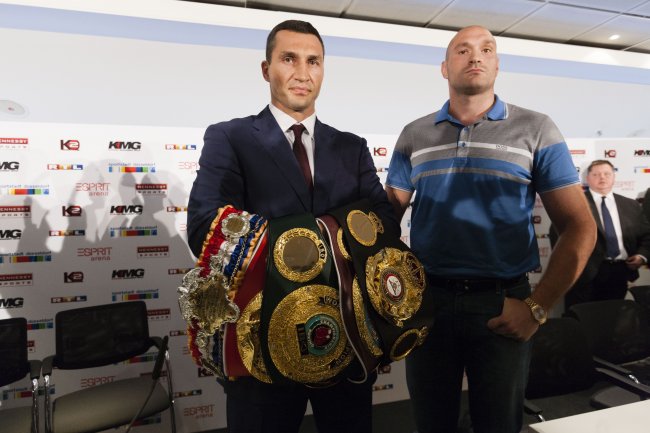 Bernd Lauter/Associated Press
Money tied Marciano's record with the win over Berto, and per Klitschko, he won't be able to resist the opportunity of doing one better, as reported by Keith Idec of BoxingScene.com:
I think he still has at least one fight [left]. I think 50-0―to be tied with Rocky Marciano is cool, but he has the chance to go ahead with his 50th fight with a 50th victory.

Sometimes athletes get nervous―as we've seen at the U.S. Open with Serena Williams. There's a lot of pressure when you do historical steps or steps in history that you're going to be remembered for. So I kind of understand Floyd on one hand. But on the other hand, I still really believe that he's not going to retire, for some reason. Even if he announced it, I think he's going to go ahead and do [it] There is at least one more fight ahead.
Mayweather officially announced his retirement from boxing after beating Berto. But there are plenty of pundits and insiders who are convinced we'll see the pound-for-pound king in the ring again, including his father, who told worldboxingnews.net, he believes his son will continue to fight, citing Marciano's record.
There are plenty of reasons to believe Money will stay retired, however. At 38 years of age, he has nothing left to prove in the sport, having won world titles in five weight classes. He has beaten a host of fantastic fighters over the years, including the likes of Pacquiao, Oscar De La Hoya and Shane Mosley.
The figures his fight with Berto posted were also the lowest for any Mayweather fight since 2006, per Yahoo Sports' Kevin Iole, indicating the fans aren't waiting for a return to the ring and thus taking out the financial incentive of a comeback.
A rematch with Pacquiao would be something the fans have already seen, while a bout against Gennady Golovkin seems impossible―GGG is a middleweight star who would present a huge risk to Money's undefeated record at a catchweight.
Speculation surrounding Maweather's future will continue to mount, and it's impossible to rule out another fight at this point. Money may not want to fight, but the combination of Marciano's record and some time away from the ring could just as easily change his mind.
Klitschko knows what he's talking about: He too has dominated his respective division for years and is hunting for a record, Joe Louis' 25 consecutive heavyweight title defences. If Dr. Steelhammer believes we'll see Floyd do his thing again, perhaps it's worth listening.