Former Liverpool forward El-Hadji Diouf has accused Steven Gerrard and his one-time club of racial prejudice following the Reds legend's criticism of him in his new book.
In a recent extract from Gerrard's upcoming autobiography, My Story, serialised in the Daily Mail, the former Liverpool skipper named Diouf the Reds signing he "liked least" and accused him of having "no real interest in football" and not caring about Liverpool.
Diouf, 34, has responded with a significant attack on the LA Galaxy star and also accused Liverpool of being a hostile environment for non-English black players following Mario Balotelli's troubled time at the club, per Senegal's Radio Futur Media (h/t the Sun's Tom Gardiner):
Everybody could see how [Gerrard] made life difficult for Mario Balotelli at Liverpool. I warned him beforehand. Liverpool is not a club that welcomes black players, unless they are English—but if they are not they don't stand a chance. It is common knowledge that Gerrard has never liked blacks. When I was at Liverpool I showed him that I was black, I wasn't English, and I wasn't going to take any nonsense. He never dared look me in the eye all the time I was at the club.
His accusations towards Gerrard and Liverpool can certainly be questioned. The current squad at Anfield includes the likes of Christian Benteke, Kolo Toure and Mamadou Sakho, all non-English black players.
Meanwhile, Djimi Traore and Djibril Cisse both played key roles in Liverpool's greatest success of the 21st century—the victory over AC Milan in the 2005 Champions League final.
Diouf was clearly eager to get some grievances off his chest and accused Gerrard of being "jealous" of what he has achieved in football. In a bravura display of self-aggrandizement, Diouf also described himself as a "big boss" and insisted that while he is "respected throughout world football," Gerrard is not, per Radio Futur Media (h/t Gardiner).
The former Senegal international played at Anfield from 2002 to 2005, during which time he scored just three league goals, per Sky Sports'Duncan Alexander.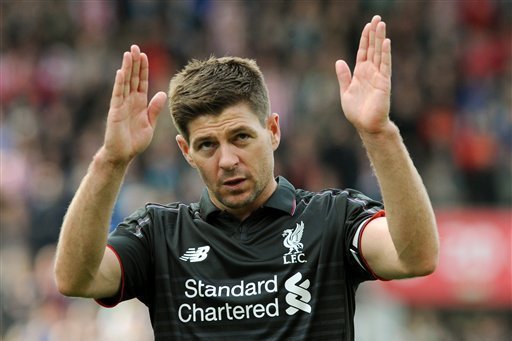 Now at Malaysian club Sabah, Diouf has played for more than 10 different teams during his chequered career and has never lived up to the hype that surrounded his £10 million move from Lens to Merseyside.
He stayed in England for some time, turning out for Bolton Wanderers,Sunderland and Blackburn Rovers, among others.
Liverpool and Gerrard have yet to comment on the allegations.