The world's two finest footballers renew their rivalry as Portugal meet Argentina in a friendly on Tuesday and Goal asks which player has done more for his national team?
By Ben Hayward & Adrian Boullosa
Lionel Messi and Cristiano Ronaldo may be taking a break from football in La Liga with Barcelona and Real Madrid, but the planet's two top players renew rivalries at international level on Tuesday as Argentina face Portugal at Old Trafford.
Ronaldo's return to Manchester sees him back at the stage where he shone for five and a half years, while Messi will be reunited with the United fans he upset with match-winning performances in the 2009 and 2011 Champions League finals.
Messi had the last laugh on the pair's previous meeting at international level as the Barcelona forward slotted home a late penalty to secure a 2-1 win for Argentina after Ronaldo had equalised for Portugal in 2011.
But much has happened since then and both men scored on their last international appearance: Messi netted the winner from the spot in a 2-1 victory over Croatia in London on Wednesday and Ronaldo hit the only goal of the game in a European qualifier against Armenia on Friday.
That strike saw the Portuguese become the all-time top goalscorer in European Championship football with 23 strikes, while Messi missed out narrowly on the greatest prize of all as Argentina lost the World Cup final to Germany earlier in 2014. So which of the two players has had the better international career? Two Goalwriters go head to head on the issue …
"MESSI'S STRIKE RATE IS SUPERIOR"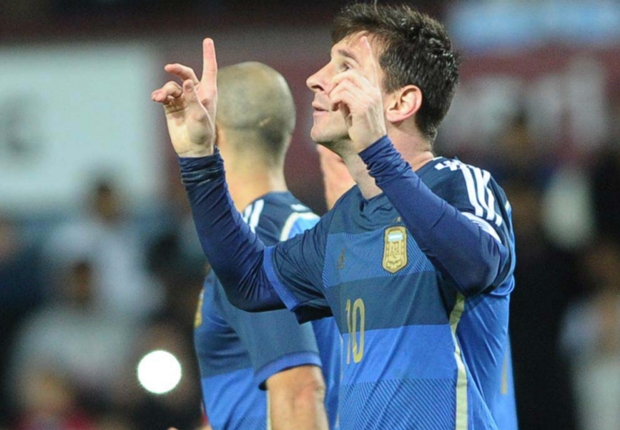 By Ben Hayward
Lionel Messi took time to win over fans of Argentina, suspicious of a player who had never featured for a professional club in his homeland and who was for many years unable to replicate his brilliant Barcelona form at international level.
That was unfair, particularly because Messi led Argentina's Under-20 side to a World Cup crown in 2005 and later helped the Albiceleste's U-23 team claim a gold medal at the 2008 Olympic Games in Beijing.
For the senior side, he had his moments in the early years, too. His superb strike as a substitute against Serbia and Montenegro in the 2006 World Cup was a highlight, as was his wonderful chip versus Mexico in the 2007 Copa America. But still there was a sense of disappointment when it mattered most.
Not now. Messi failed to score in the 2010 World Cup but assisted four goals for Diego Maradona's men and took his game to a new level under Alejandro Sabella, scoring much more freely and embracing the extra responsibility afforded to him as captain of his country.
Memorable moments include a stunning hat-trick against Brazil in a sensational 4-3 win in 2012 and trebles against Switzerland and Guatemala.
The forward's fine form for the Albiceleste at Brazil 2014, when he struck four goals in the group stages (including a wonderful winner against Iran and another stunning strike versus Bosnia-Herzegovina) before setting up Angel Di Maria's extra-time clincher in the second-round meeting with Switzerland, then saw him deliver in style on the game's greatest stage.
Messi missed out on the biggest prize of all as Argentina lost to Germany in the final, but the forward's star shone brightly in Brazil as Portugal and Cristiano Ronaldo limped out in the group stages.
Still only 27, Messi now has 45 goals for Argentina in just 96 appearances at a rate of 0.468 per match. By comparison, Ronaldo's 52 in 117 appearances have come at 0.444 per game.
Both men are now the undisputed leaders of their respective national teams and formidable footballers, but Messi's superior strike rate, better performances in World Cup football and ability to assist more often than Ronaldo currently give him the edge on his Real Madrid rival at international level.
"RONALDO HAS MORE OF AN INFLUENCE THAN MESSI"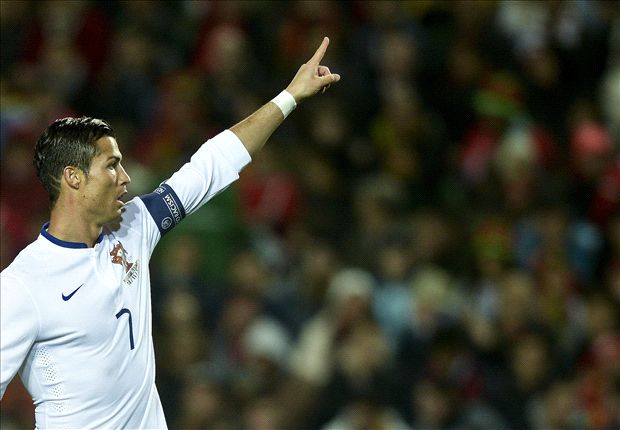 By Adrian Boullosa
Cristiano Ronaldo is shattering records with both Real Madrid and Portugal – and he shows no sign of stopping. The Madeira-born forward, who became the European Championship's all-time top goalscorer (including qualifiers and the tournament itself) with his strike against Armenia on Friday, is still dreaming about a third Ballon d'Or as he prepares to meet old foe Lionel Messi in Tuesday's friendly between Argentina and Portugal at Old Trafford.
Whatever the result of that match-up between the two best players in the world, the former Manchester United man is already a step ahead of his Barcelona counterpart at international level.
Perhaps this is not the case in terms of titles (neither country has won a trophy at the highest level since the international careers of these two geniuses began, unless you include the gold medal for Argentina's Under-23 team in 2008), but because of a question of overall influence within the collective.
Cristiano has been the undoubted star leading Portugal for a number of years: his explosion at Euro 2004, when the host nation surprisingly lost the final to Greece at Estadio Da Luz, marked the arrival of a new idol still sparkling 117 games in and bulit on the foundations of the forward's 52 goals for his country.
The Madrid man is also the only Portuguese player to have scored in three World Cups (Germany 2006, South Africa 2010 and Brazil 2014).
So even though Messi reached the World Cup final with Argentina while Portugal were knocked out of a complicated group at Brazil 2014, the difference in performance and potential of the two teams means more merit must go to Cristiano, who will be looking eagerly towards Euro 2016 as his next big challenge.
At the age of 29 and in the finest form of his career, Portugal's great captain still has time to taste glory in his country's colours. And he's still ahead of Messi, too.