Legendary goalkeeper Oliver Kahn believes Real Madrid star Cristiano Ronaldo will win this year's Ballon d'Or award, beating rival Lionel Messi despite the latter's treble-winning season with Barcelona.
In an interview with FIFA.com (h/t Sport), the former Bayern Munich star commented on the lack of respect goalkeepers receive in these kinds of awards before making his prediction:
I think that in international terms – and it's not just Europe that votes – it's still not widely understood that a goalkeeper can be in contention for an award like this.

I experienced this first-hand; you can't dispute that it's an issue. It'll probably be another battle between Messi, who's had a strong season, and Ronaldo, who has scored another hatful of goals.

I think Ronaldo will win again, a man who calls himself the world's best player – and who can blame him?
Kahn twice finished third in Ballon d'Or voting himself, losing out to Michael Owen in 2001 and Brazilian striker Ronaldo in 2002. Only one goalkeeper has ever won the Ballon d'Or: the Soviet Union's Lev Yashin in 1963.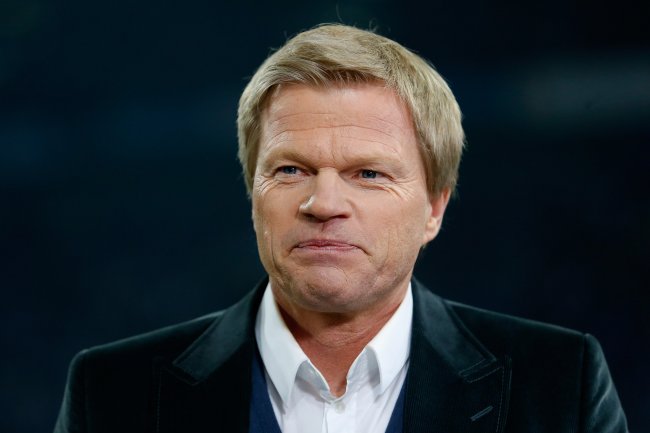 Boris Streubel/Getty Images
Messi is seen as the overwhelming favourite to win this year's Ballon d'Or after a wonderful season with Barcelona, where he won the La Liga title, the Copa del Rey and the UEFA Champions League. He also came agonisingly close to winning the Copa America, but Argentina lost to hosts Chile in the final.
The pint-sized forward finished the 2014-15 campaign with 43 goals in La Liga and 10 in the Champions League, per WhoScored.com. Ronaldo had the same amount of goals in Europe, but he had five more in La Liga.
This season, Ronaldo has taken a substantial lead in the scoring department, taking advantage of Messi's absence due to injury.
From a statistical point of view, Ronaldo had the stronger campaign, but a lack of silverware could sway the voters' opinion. Real Madrid crumbled in La Liga's title race after a promising start, were knocked out of the Copa del Rey in the round of 16 by neighbours Atletico Madrid and disappointed against Juventus during the semi-finals of the Champions League.
The Ballon d'Or isn't a team achievement, and having won the award in 2013 and 2014, it's clear Ronaldo is popular with the voters and will once again challenge for the award. If he wins it in 2015, he will tie Messi with four awards each.
Kahn certainly believes the Portugal international would be worthy, as would just about any fan of the sport, but following Barcelona's tremendous success during the 2014-15 season, it would be a shock if one of their players didn't win this year's Ballon d'Or.