Former Manchester United defender Rio Ferdinand feels Real Madrid star Cristiano Ronaldo is as good as all-time greats such as Diego Maradona and Pele.
The 30-year-old netted twice in Wednesday's 4-3 defeat to Schalke in the second leg of their last-16 tie at the Santiago Bernabeu, helping them squeeze through 5-4 on aggregate.
Ronaldo became the all-time leading goalscorer in European competition in the process with 78 goals and Ferdinand believes the Portugal international and his Barcelona rival Lionel Messi deserve more credit for their extraordinary performances.
"Is Ronaldo on par with all-time greats like Maradona and Pele? Yeah, absolutely, 100 per cent. Him and Messi, we are probably not giving them as much credit as they deserve because this is their era and we are seeing them play," Ferdinand told Goal at Heineken's #ChampiontheMatch event in Amsterdam, which takes a look at football fans' rituals on Champions League match day from a social point of view.
"The Brazilian Ronaldo, Rivaldo and Ronaldinho, these guys were scoring 25 to 30 goals a season and we all said they were amazing and the greatest.
"If Messi and Ronaldo score 25 to 30 goals we are saying they are having a poor season. And they have been performing at the highest level for the last six or seven years."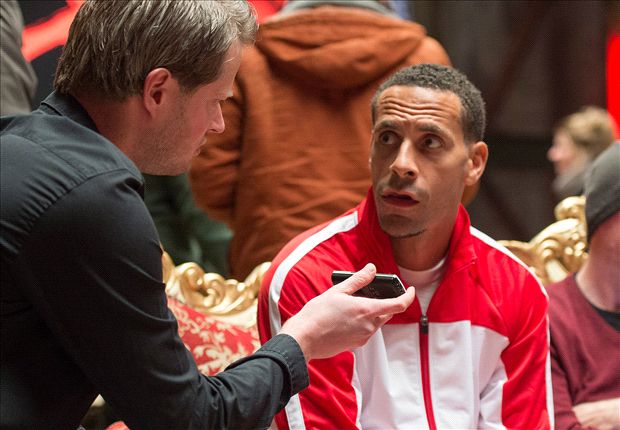 Goal's Stefan Coerts interviews Ferdinand at Heineken's #ChampiontheMatch event in Amsterdam
Ferdinand featured alongside the prolific attacker at United between 2003 and 2009 and he has stressed the winger's immense potential was clear to see right from his arrival at Old Trafford.
"I think we always knew Ronaldo was going to become a great player from the moment he joined United," the 36-year-old added.
"But the amount of goals he has scored in the last six or seven years, that was hard to imagine at the time.
"Yet we already knew he was going to be a fantastic player, a top player. He had great desire, great work ethic, along with a lot of ability and that was a great combination."
Ferdinand also had his say on Gareth Bale's Madrid career so far and insisted that the former Tottenham man's difficult second season at the club is only logical after a hugely successful debut campaign.
"His first season at Madrid was unbelievable. He could not have dreamed of doing this well. He won trophies and played fantastically well.
"His second season has not been as smooth, but that's part of football. I always think that no matter what happens, when you're a young player, the second season is always the hardest. And it's the same when you go to a new club.
"People get to know you and work out how you play, you have to adapt again. A second year is never easy, but I think he's good enough to come through this.
"The presence of Ronaldo is not a problem for him. They won the Champions League together last season and they were both there. I can't see this being an issue."
Bale has netted 14 goals in 37 appearances in all competitions for Madrid in 2014-15.
Credit: Goal.com