After weeks of stories about Ebola and despotic dictators, and widespread fears about whether the grass would grow in time, football was finally on the agenda at the Estadio de Bata when players and coaches met the media to talk about the opening game of the 30th Africa Cup of Nations. It did not go quite as planned.
First, there was a problem with a projector screen behind Esteban Becker and Javier Balboa, an Argentine and a Spaniard who are coach and captain of the host nation, Equatorial Guinea.
No questions could be taken because the malfunctioning screen – which refused to roll back into its housing – blocked out the names of the tournament sponsors. A couple of strips of wiring did the trick – but then there was a language problem. Nearly everybody in the conference room spoke English, but the official translator was not among them.
When the talk finally started, in Spanish (the official language of the host nation but of no other African country) it was drowned out by music. The stadium's sound system was going through final testing and the catchy Afcon theme song, visibly enjoyed by Becker and Balboa, made recording impossible.
The Afcon would not be the same without a late mishap. At least it wasn't too embarrassing, unlike in Morocco in 1988 when a parachute display, with men landing on the pitch, was part of the pre-match entertainment. One of the parachutists got caught in the floodlights and the opening match was delayed while he was untangled.
When Becker and Balboa – who was born in Spain and scored a Champions League goal for Real Madrid before ending up at Estoril in Portugal – did start talking, it wasn't all that riveting. "We'll take it match by match," for example. A query about the questionable heritage of several of the players brought the response, "They are all very proud to represent the country. They are tied by blood, through their parents or grandparents."
Claude Le Roy, coach of Equatorial Guinea's opponents Congo and leading a team at the Cup of Nations for the eighth time, was equally uninspiring, though he did point out that six of his players were teenagers and "they like to play".
After the official procedure was finished, Becker did say something significant. Saturday's game in front of a predicted full house of 35,700 is the most important football match in Equatorial Guinea's history.
They have played in the quarter-finals before but this game means more. "The country is really proud to be hosting the tournament – the government and the people," said Becker, who led Equatorial Guinea's women's team to continental glory in 2012. "The crowd will be an extra man for us tomorrow. It will be a huge occasion."
When Morocco withdrew as hosts in November, Equatorial Guinea stepped in, or rather President Teodoro Obiang did. Africa's longest-serving ruler – 36 years and counting – saw an opportunity to raise his nation's profile. Obiang has long been criticised in the west for his record on human rights, and in the words of the Financial Times "Equatorial Guinea has become a by-word for oil-driven corruption in Africa."
They even cheated at football, fielding a Cameroonian who was ineligible, leading to disqualification from qualifying and a ban. But the suspension was overturned when Obiang made his offer and since, in a remarkable feat of organisation, the Equatoguineans have put pretty much everything in place for the tournament in 57 days. New pitches, with consultants from England and grass from Spain. New floodlit training facilities.
There has been a shortage of hotel rooms, and teams have complained. "Two months to do everything?" said Hicham El Amrani, general secretary of Caf (Confederation of African Football). "We have to say we are beyond what we expected. We owe our thanks to Equatorial Guinea."
Without their offer to host the tournament it would have been cancelled. "Can you imagine the damage that would cause?" said El Hamrani. "Can you imagine Fifa not being able to organise the World Cup? This is a continent where positive things happen, not just epidemics."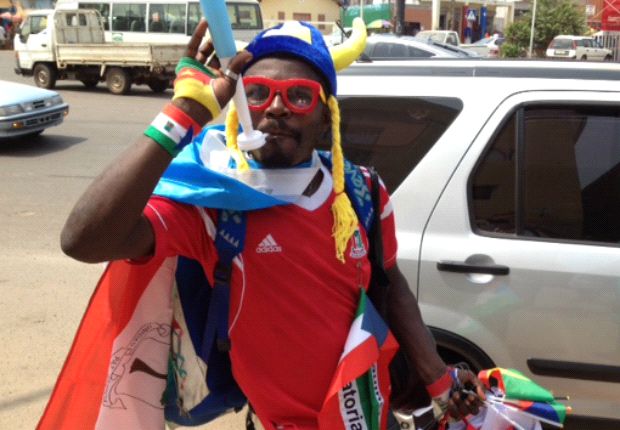 For Becker, 57 days to do everything would be a luxury. He has had 11 days since the Butcher of Bilbao got the chop. The Butcher, as Andoni Goikoetxea was known, was sacked as head coach earlier this month and Becker, a former technical director of the Equatorial Guinea federation who has trained lower-division sides in Spain, took over.
"We are a young team," he said. "We will aim to attack."
Most of Africa will be willing them on, regardless of the politics. If the hosts win the opener – and Bata really is buzzing in the build-up to the game – the tournament will take off. If they lose, fears over poor ticket sales will increase and the 30thAfrica Cup of Nations could become a series of soulless games in near-empty stadiums.
The team's nickname is Nzalang, which means 'lightning'; they'll be hoping it strikes in Bata on Saturday.