Bata was in party mood as a colourful ceremony preceded the opening game of the finals while roads to the stadium became gridlocked with eager supporters
By Brian Oliver in Bata, Equatorial Guinea
Bata went bonkers on the opening day of the Africa Cup of Nations, as Equatorial Guinea kicked off the tournament in a game their coach, Esteban Becker, had described as "the most important football match in this country's history".
Roads were gridlocked hours before kick-off – much to the chagrin of Congo coach Claude Le Roy – and the atmosphere that has buzzed around the country's largest city for the past few days lifted the team. They took an early lead and had chances to go 2-0 up, but Congo pressed hard and deservedly equalised.
At least the hosts did not lose, for which the tournament organisers will be grateful. They have been worried about ticket sales, and a bad start for the home nation would have added to their fears.
Equatorial Guinea still have a chance of making it out of their group, which isn't bad for a team who had been kicked out of the qualifiers for fielding an ineligible player last summer. All was forgiven when they replaced Morocco as hosts in November.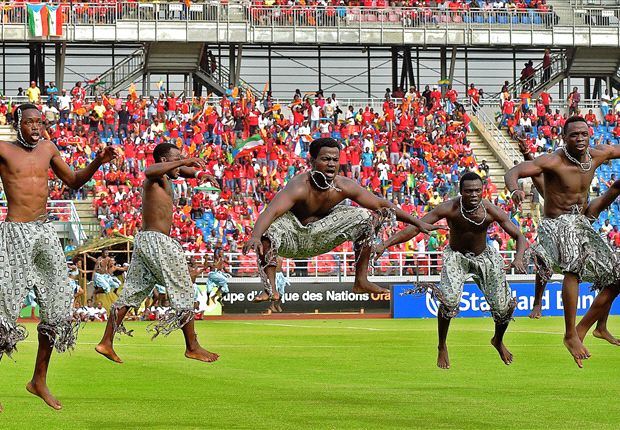 The opening ceremony featured plenty of vibrant performances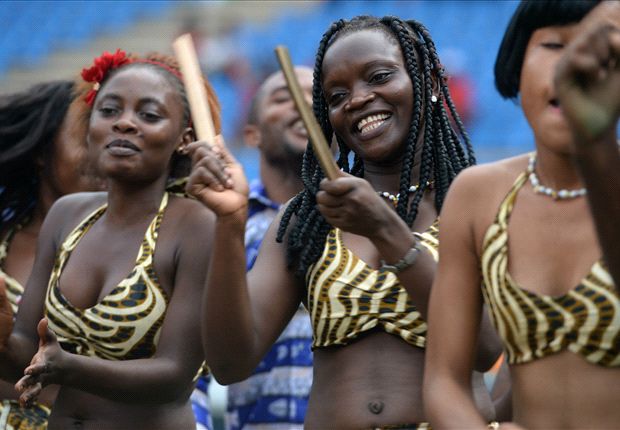 The dance acts were greeted with some of the biggest cheers – before Akon arrived
The crowd – many of whom had to walk miles to Estadio de Bata, with surrounding roads closed – was the highest for any match played in the country.
There were many more than the official capacity of 35,700 inside the ground. Every step, every gangway, every walkway was full, and there must have been at least 40,000 watching – most of them wearing the red of the Nzalang.
Amazingly, there was a half-decent opening ceremony, which was better than usual because it had been hastily put together. It was not over-elaborate, and didn't feature too many speeches.
The star attractions were a glamorous Cameroonian singer, Mani Bella, and an American-Senegalese whose full name is Aliaune Damala Bouga Time Bongo Puru Nacka Lu Lu Lu Badara Akon Thiam. He is better known as Akon – the hip-hop artist who is number five on Forbes' list of most influential African celebrities and number one on a ranking of telephone ring-tone downloads. Akon was cheered as though he had scored a goal when he sang.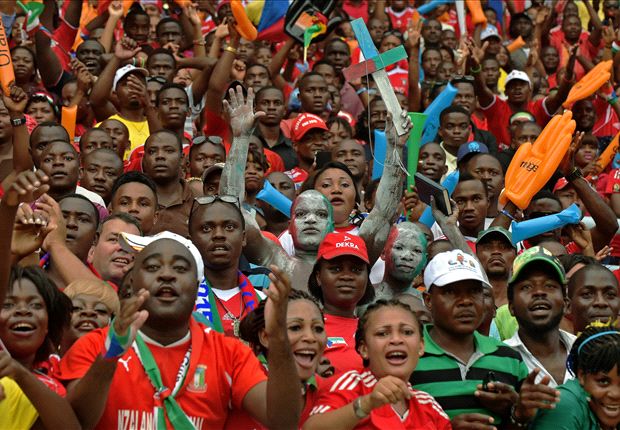 Thousands of home fans packed into the stadium despite the traffic chaos
There were groups of performers in traditional dress, and a very active team of dancers who lined up 5-5-7-7 on the pitch, with the women at the back and the pantalooned men at the front.
Congo seemed to think that formation might do for them in the opening 20 minutes of the game, when they were dreadful.  Equatorial Guinea should have scored after eight minutes when they had three against two in the penalty area. Ivan Edu, who plies his trade in Spain's Segunda Division, wasted the chance; a Spanish third division player showed much better skill in setting up the hosts' goal, scored by Middlesbrough's Emilio Nsue from what looked like an offside position. Kike Seno, who plays for Real Mallorca B, created it with a dazzling run and had a good first half before waning and being replaced after an hour.
Another Spain-based star, this time from the Primera Division, broke the hosts' hearts, though. Thievy Bifouma, who was Congo's best player, scored a deserved equaliser when he squeezed a right-foot shot past heroic goalkeeper Felipe Ovono.
Equatorial Guinea's heroes were the goalscorer Nsue, who had another effort disallowed for offside, captain Javier Balboa in midfield, and Ovono, who made a couple of outstanding saves. And the crowd.
Balboa once scored a Champions League goal for Real Madrid, while Ovono plays in the semi-professional local league for Deportivo Mongomo. It's a great leveller, the Cup of Nations.